ZipChart
®

is the fully certified Paperless EMR designed by physicians FOR physicians.
Focus on your Patients not your charting tools
Electronic Medical/Health Records software is changing the face of medicine. Every year more physicians and their staff convert to digital records, but the conversion and change in office workflow is not without risk. From the cost of an EMR system, to the time involved learning a new process, converting your office to a paperless digital office is a big decision.
What makes ZipChart® different than all the other EMR programs you have already (or will) look at?
ZipChart® EMR is an easy to use, yet powerful EMR built on web technology and designed for the tablet PC. The ability to customize ZipChart at both the practice and individual provider levels, with simple point and click functions, makes ZipChart® the intuitive EMR designed for the way physicians practice.
ZipChart® has a philosophy that if the most expensive person in the office (the provider) is doing the clerical work, the records system is costing you money.

We have a streamlined system that allows the physician to see the same, and more likely more patients during a clinical day.

And ZipChart is a certified EMR allowing physicians to qualify for the EHR Incentives offered by the Centers for Medicare & Medicaid Services.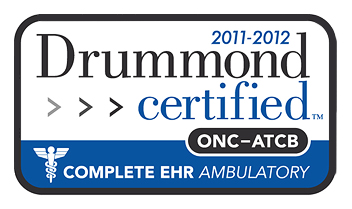 This Complete EHR is 2011/2012 compliant and has been certified by Drummond Group, Inc., an ONC-ACB in accordance with the applicable certification criteria adopted by the Secretary of the U.S. Department of Health and Human Services. This certification does not represent an endorsement by the U.S. Department of Health and Human Services or guarantee the receipt of incentive payments.

ZipChart, Inc., CHPL Certification ID: 12152011-9713-8, tested 12/15/2011. Clinical Quality Measures tested: NQF0013, NQF0024, NQF0028, NQF0038, NQF0041, NQF0086, NQF0088, NQF0089, NQF0421. Additional software used: H2H Digital RX; spreadsheet software.
Blog Updates
CMS Rescinds Signature Ruling on Testing Requisition Forms.
Registration for EHR Incentive Programs is now open
Providers may now start to register for the federal EHR incentive programs.
To read more click here.

Take the Carrot, Dont Wait For the Stick!
It is not too late to start e-prescribing for 2010 and collect the 2% bonus on all eligible Medicare charges.
To read more click here.

What Does "Certified EMR" Really Mean
Just because an EMR is Certified doesn't make it a good EMR or a good EMR for your practice. To read more click here.

Pay Fewer Taxes this Year!
In September Congress increased the amount you can write off or your gross income, meaning you pay fewer taxes. To read more click here.