George Fallar, CTO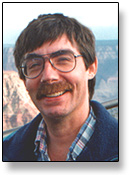 George attended American University and University of Maryland before embarking on a sales career, first representing a rural radio station selling air time before moving on to more lucrative pastures selling automobiles. Eventually, he worked his way to become sales manager of a New York Volkswagen dealership before deciding to pursue the entrepreneurial path with his own automobile restoration and sales business. He eventually began programming computers professionally after experimenting with a first generation IBM personal computers and hasn't looked back since.

George worked as a programmer and eventually a project manager in his ten years with General Reinsurance. George has designed and programmed online and batch mainframe applications, designed a multinational client/server network, developed seamless mainframe/PC interfaces and programmed an artificial intelligence application.
After relocating to Arizona, George worked for a small consulting firm and then CompuWare, Inc. before returning to the entrepreneurial side by founding Mojo Development, LLC, a web development and programming company. He remains actively involved in Mojo Development and is an Information Technology consultant for several Phoenix area companies. George founded ZipChart with Kishore Tipirneni. He is the chief software engineer for ZipChart, having designed the databases and written all of the web based components for the EMR application.
George is a published author and resides in Cave Creek with his most special lady and their five children, two dogs and assorted semi-adopted resident coyotes, quail, hawks and the occasional javelina.